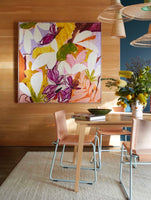 Framed or Unframed Edition Prints
Prints can be ordered framed or unframed in either canvas or fine art paper. The colours and quality of the prints are vibrant and flawless. The materials used are the highest quality in the world and will last over 100 years without fading.
Shop here
High Quality Reproduction
Prints come rolled in an art tube so that you can take to your preferred framer.
Shop Here
Create an Atmosphere
Transform your space to inject colour and personality to your home. If its a hero piece or an addition to your gallery wall we have a variety of different sizes to suit your needs.
Shop Here
Choose framing
You now have the option within Australia to have your artwork framed and delivered to your door. Click here to add framing to your order.
Click here to add a frame